In this Section




| | |
| --- | --- |
| | Medicare Supplement |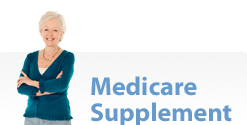 Medicare supplement insurance takes care of services and products traditional Medicare may not cover. Let us help you find the right coverage.


Medicare Supplement

What is Medicare?

What are Different Types of Medicare?

Who is eligible for Medicare?

How Do I enroll in Medicare?

What are Medicare Advantage Plans?

What is Medicare?


Medicare is a social insurance program funded by the United States Government to provide health insurance coverage for people who are older than 65, people under 65 with permanent physical disabilities, or people who meet other special medical criteria. Medicare alone covers 80% of any given medical cost. The remaining 20% must be paid out of your own pocket or by a Medicare Advantage or Medicare supplement insurance plan.



Top of Page

What are Different Types of Medicare?


Medicare has four parts:

Part A. Hospital Insurance: Helps pay for inpatient hospital care, nursing home facility, hospice, and some home care.


Part B. Medical Insurance: Helps pay for some medical services and products not covered in Part A, like doctor services, outpatient care, and some medical equipment and other preventive services.


Part C. Medicare Advantage Plans: Gives Medicare beneficiaries the option to receive their Medicare benefits through a private health insurance plans, instead of through the original Medicare plans (Parts A and B).


Part D. Prescription Drug Coverage: Is a drug insurance plan run by an insurance company approved by Medicare. There are two ways to get Medicare prescription drug coverage through either Medicare Prescription Drug Plans or Medicare Advantage Plans.

Top of Page

Who is eligible for Medicare?


If you have been a resident of the United States for at least 5 years and 65 years of age or older, you are most likely eligible for Medicare. Also, people with disabilities under 65 years old may also be eligible if they receive Social Security Disability Insurance (SSDI) benefits. You may also become eligible if you have special medical conditions.

People qualify for Medicare coverage and Medicare Part A premiums are waived if the following apply:

You are 65 years or older and have been a United States citizen for 5 continuous years and you or your spouses have paid Medicare taxes for at least 10 years.


You are under 65 years old, disabled, and been receiving either Social Security benefits or Railroad Retirement disability benefits. You must have received one of these benefits for at least 2 years from the date of first disability payment (entitlement) before you become eligible to enroll in Medicare.


You are also eligible for Social Security Disability Insurance and have amyotrophic lateral sclerosis (also known as Lou Gehrig's disease).


People who are 65 and older must pay a monthly premium to remain in Medicare if you or your spouse has not paid Medicare taxes for 10 years.



Top of Page

How Do I enroll in Medicare?


You can go online and enroll in Medicare if you:

Are at least 64 years and 8 months old
Want to sign up for Medicare and do not currently have any Medicare coverage
Live in the United States or one of the its commonwealths or territories and you do not want to start receiving social security benefits at the same time.
Enrollment varies for each Medicare Parts. Here's how you enroll in each:

Part A – You are automatically enrolled on your 65th birthday.


Part B – If you get Social Security or Railroad Retirement Board Benefits (RRB) you are automatically enrolled the first day of the month you turn 65. If you aren't automatically enrolled, you can enroll as early as three months before your 65th birthday. If you get disability benefits from Social Security, you'll automatically get Part B.


Part C – Contact the specific plans you're interested or click here and we can refer to you an agent in our network that specializes in Medicare Advantage in your area.


Part D – Once you choose a Medicare drug plan, you can join by completing a paper application, calling the plan, enrolling on the plan's Web site. You can also enroll by calling 1-800-MEDICARE (1-800-633-4227). TTY users should call 1-877-486-2048. Visit the Medicare Prescription Drug Plan Finder for a list of Medicare drug plans in your area. Contact the specific plan you're interested in to find out how to join.

Top of Page

What are Medicare Advantage Plans?


When the Balanced Budget Act of 1997 was passed, it allowed Medicare beneficiaries the option to receive their Medicare benefits through private health insurance plans, instead of through the original Medicare plan (Parts A and B). These programs were known as Medicare plus Choice or "Part C" plans. Before the Medicare Prescription Drug, Improvement, and Modernization Act was passed in 2003, Medicare plus Choice plans were made more attractive to Medicare beneficiaries by adding the prescription drug coverage and became known as Medicare Advantage plans.

Traditional Medicare had a standard benefit package that covers medically necessary care members can receive from nearly any hospital or doctor in the country. If you choose to enroll in a Medicare Advantage health plan, Medicare pays the private health plan a fixed amount every month. You will typically also pay a monthly premium in addition to the Medicare Part B premium to cover items not covered by traditional Medicare (Parts A & B), such as prescription drugs, dental and vision care, even gym or health club membership. Typically when you exchange these extra benefits, you may be limited in the providers you can receive services from without paying extra. Usually, the plans have providers in their network that you can only use. If you go outside that network it may require you get permission or pay extra fees. Most Medicare Advantage plans offer low copayments and cover services that are not covered by Medicare.

Some Medicare Advantage plans may include Part D prescription drug coverage. These plans are referred to as Medicare Advantage with Prescription Drug coverage.

Some of the different types of Medicare Advantage Plans are:
Preferred Provider Organizations (PPO)
Medicare Health Maintenance Organizations (HMO)
Private Fee-for-Service Plans
Medicare Special Needs Plans
Not everyone can enroll in the same private plans, depending on where you live, will determine what plan you can enroll in. Some plans limit your annual out-of-pocket spending on medical care providing insurance against catastrophic costs. There are a lot of plans that offer dental coverage, vision coverage and other services not covered by Medicare Parts A or B, which makes them a good value, if you want to use the provider included in the plan's network providers.



Top of Page