In this Section
| | |
| --- | --- |
| | Health Insurance |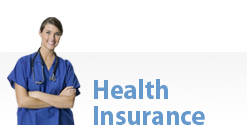 Health insurance is more affortable then ever before! Lets us do the work to help you find the best rates.


Health Insurance

Who Needs Health Insurance?

What Is The Cost of Health Care?

Different Types of Health Insurance

What To Know When Buying?

How Much Is Health Insurance Going To Cost Me?

Who Needs Health Insurance?


According to the US Census Bureau, over 45 million people in the United States were without health insurance coverage. So who needs health insurance? Everyone, even if you are young and healthy. You will never know when you might come down with a serious medical condition or have an accident. Health insurance is one type of insurance you can't do without. We all need medical attention, several people need it more regularly than others. When you are sick, you don't need to be worrying about how you are going to be coming up with the money to pay your medical bills, you need to focus on getting better. Different types of coverages pay for different things, but the main reason you need health insurance is to protect you against the potentially catastrophic expenses of a serious illness or injury.



Top of Page

Cost of Health Care


Everyone knows health care is expensive, but it might surprise you to see the actual cost of many common medical procedures. The truth is, given the cost of health care today, even preventative care and minor procedures can add up to major bills. To gain a better understanding of what health care might cost you without health insurance, view Health Insurance Cost of Care and see why health insurance is something few can afford to do without.



Top of Page

Different Types of Health Insurance


There are four main types or classification's of health insurance. They are health maintenance organizations (HMOs), preferred provider organizations (PPOs) point of service plans (POS), and indemnity providers. It's extremely important for you to understand the differences between the four main types of plans before you decide to purchase or change your existing insurance.

HMOs
An HMO is regarded as a managed health care system providing a comprehensive array of medical services on a prepaid basis, instead of paying for each individual service that you received, this is know as the premium and is usually paid on a month or quarterly basis.

HMOs emphasize on preventive medicine and early treatment with routine medical exams. With an HMO, you choose a primary care physician affiliated with your plan, usually a general practitioner, to coordinate your care. Generally, you must receive a referral from your primary care physician before visiting a specialist in your provider network. With rare exceptions, your HMO will require that you seek care within its network of providers ­ doctors, hospitals, and labs -- with whom your HMO has negotiated a fee schedule. Negotiating discounts from providers is one of the main ways HMOs keep healthcare costs in check. In addition to your monthly or quarterly premiums, most HMOs require a co-payment for certain services, for example, $10 or $20 for an office visit. Some, but not all, HMOs will apply co-payments to hospitalizations as well.

One of the interesting things about HMOs is that they deliver care directly to patients. Patients may to go to an HMO's medical facility to see the nurses and doctors. Another common model is a network of individual practitioners. In these individual practice associations (IPAs), you will get your care in the office of a physician who may accept patients from different health plans.

PPOs
Preferred provider organizations (PPO) is an arrangement under which a selected group of independent hospitals and medical practitioners, in a certain area, agree to provide services to subscribers at a prearranged cost. This plan typically allows you to see any doctor at any time.

Unlike most HMO arrangements the providers are paid on a fee-for service basis rather than receiving a flat monthly amount. When you go see a hospital or doctor within the PPO network, you typically make a co-payment (which is a fixed fee for service) and pay some co-insurance.

For example, the insurer may reimburse you for 80 percent of the cost of the medical visit. So after the visit, you will owe 20% of the total bill, plus your co-payment. When you see a physician out of network, you usually still receive coverage, but at lower levels. For instance, the insurer might only reimburse you for, say, 70 percent of the cost, and require a higher co-payment. You may also have to pay the difference between what the provider charges and what the plan considers reasonable. One of the things people like about PPOs is the ability to make self-referrals. That means you can see any doctor you want, including specialists inside and outside the PPO network, without a physician referral.

POS Plans
A point-of-service plan (POS) combines elements of both a health maintenance organization (HMO) and a preferred provider organization (PPO). The plan allows you to use a primary care physician to coordinate your care, or you can self refer your own care. When medical care is needed, you generally have to two or three options, depending on the particular health plan:

1. You can go through a primary care physician, in which case the services will be covered under HMO-like guidelines (i.e., usually just a co-payment will be required).

2. You can access care through a PPO provider and the services will be covered under in-network PPO guidelines (i.e., usually a co-payment and coinsurance will be required).

3. You can obtain services from a provider outside of the HMO and PPO networks. These services will be reimbursed according to out-of-network rules (i.e., usually a co-payment and higher coinsurance charge will be required).

Indemnity Plans
With an indemnity plan, you can go to the doctor of your choice, and you, your doctor or your hospital submits a claim to your insurance company for reimbursement. Just note that you will only be reimbursed for "covered" medical expenses, a list of which can be found in your benefits summary. The good news is that the vast majority of procedures will be covered under an indemnity plan. Indemnity plans pay a sizable percentage of what they consider the "usual and customary" charge for covered services in your area. The insurer generally pays 80 percent of the usual and customary costs and you pay the other 20 percent, which is known as the coinsurance. If the provider charges more than the usual and customary rates, you will have to pay both the coinsurance and the excess charges.

For example, if your insurer determines that the usual and customary fee for "X medical service" is $100, the insurer will pay $80 and you will be required to pay the remaining $20. However, if your doctor charges more than the usual and customary fee, $105 for example, you would be required to pay the additional $5, making your total expense $25. Many indemnity plans reimburse at the 80/20 level, but some reimburse at other levels, such as 70/30. In addition to the coinsurance, most indemnity plans have deductibles. These are amounts of covered expenses you must pay before the insurer will start reimbursing you for your medical bills. These might range from $250 to $500 per year per individual, or $500 or more per family.

Generally, the higher the deductible, the lower the premiums, which are the monthly, quarterly, or annual payments for the insurance. Indemnity policies typically have an out-of-pocket maximum. This means that once your covered expenses reach a certain amount in a given calendar year, the insurer will pay the usual and customary fee in full. However, if your doctor charges you more than the usual and customary fee, you still may have to pay a portion of the bill. Some policies also have lifetime limits on benefits. Most experts recommend that you look for a policy that has a lifetime limit of at least $1 million.



Top of Page

Which Plan is best for me?


The best health insurance for you is the one that gives you the greatest flexibility and the most benefits for not only the lowest cost, but also fits within your budget. When choosing a health plan, there are several important questions you should ask your agent, below are a few questions that will help you understand and choose a plan that best fits your needs.


Does the plan cover you for the specific doctor or hospital that you would like to use?
How much freedom do you have to choose your own health-care providers?
Does the plan cover the health services that you need?
Does the plan cover the health-care providers you're currently using?
How does the referral system work with each plan?
How will each plan handle care if you or a family member is away from home?
What are each plan's monthly premium, deductible and coinsurance and would they fit within your budget?
Are there other fees, such as co-payments and out-of-network fees?
Is there a maximum amount each plan will pay over a year or lifetime?
What types of benefits are specific to this plan?
Does the plan offer family, as well as individual, coverage?
Does the plan cover pre-existing conditions? If so, is there a waiting period? (The average waiting period is three months to one year.)
Does the insurance company have a good reputation in the industry and a positive rating from a major ratings organization? (Contact your state's department of insurance for more information.)

Top of Page